OK thought I'd put this in here, just a few notes from my recent differential and transmission oil changes.
First off warm up the car to make the oil flow easier. I went for a 20 minute drive so by the time the car was up in the air, it was still at a warm temperature and the oil drained really easily.
First off the transmission. I found that my 6 speed manual took a smidge under 2 quarts (so about 1.85 litres). I used Redline D4 ATF fluid as recommended on alot of the US sites.
The fill plug was a 8mm hex bit and is on the drivers side, the drain plug is also a 8mm hex bit and sits at the bottom.
Naturally you want to remove the fill plug first and then the drain plug.
Before you start make sure the car is level. I drove the front wheels onto ramps and then put the rear on axle stands.
The access to the fill plug isn't perfect so it was real tight with my 8mm hex bit, I could just about get my breaker bar in.
I filled the transmission using a fluid pump I got from Machine Mart, it was about £10. Note that if you get this pump, it doesn't quite reach the very bottom of the bottle, so to get the last bit of fluid in the transmission I had to decant it into a jar and the last few pumps bought the oil right to the bottom edge of the fill plug.
Don't worry if you put too much in as the excess will flow out the fill plug.
The torque specs for the drain and fill plugs are 50 Nm.
Drain and fill plugs circled
Old oil and the 8mm hex bit I used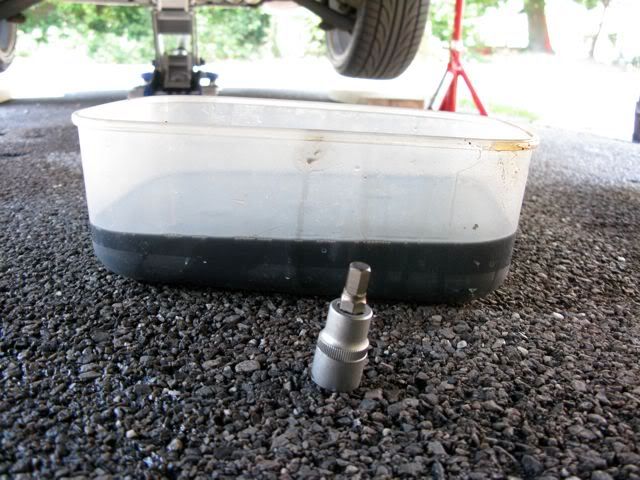 New oil and old oil - quite a difference!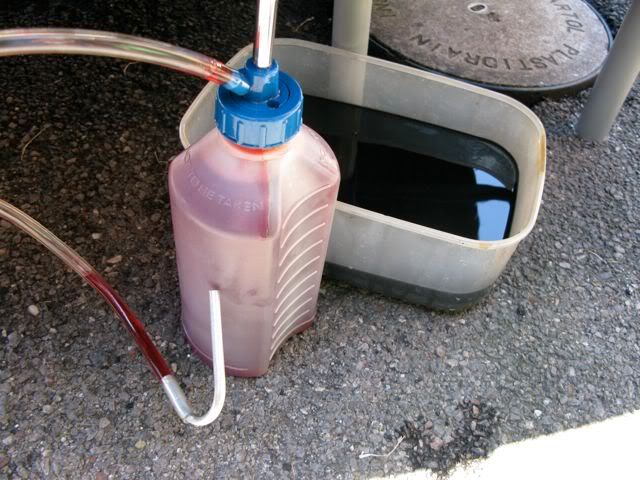 Onto the differential and this time a 14mm hex bit for the fill and drain plugs.
The fluid used this time was Redline 75w90 and the amount was approximately 1.1 quarts (so just over a litre).
Again, make sure the car is level and make sure you undo the fill plug before the drain plug as always.
Used my machine mart pump again and you can see the colour difference in the oil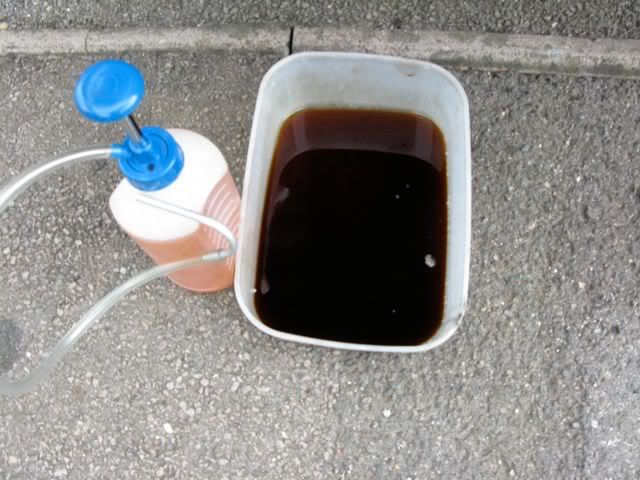 I also noticed some tiny bits of metal in the drained oil, so definately worth doing.
The torque specs for the drain and fill plug are 70 Nm
The transmission oil change made the biggest difference, the gear change is slicker and doesn't feel as notchy now, but well worth doing this just for peace of mind.